We have curated some adventurous additions for your Road Trip Day!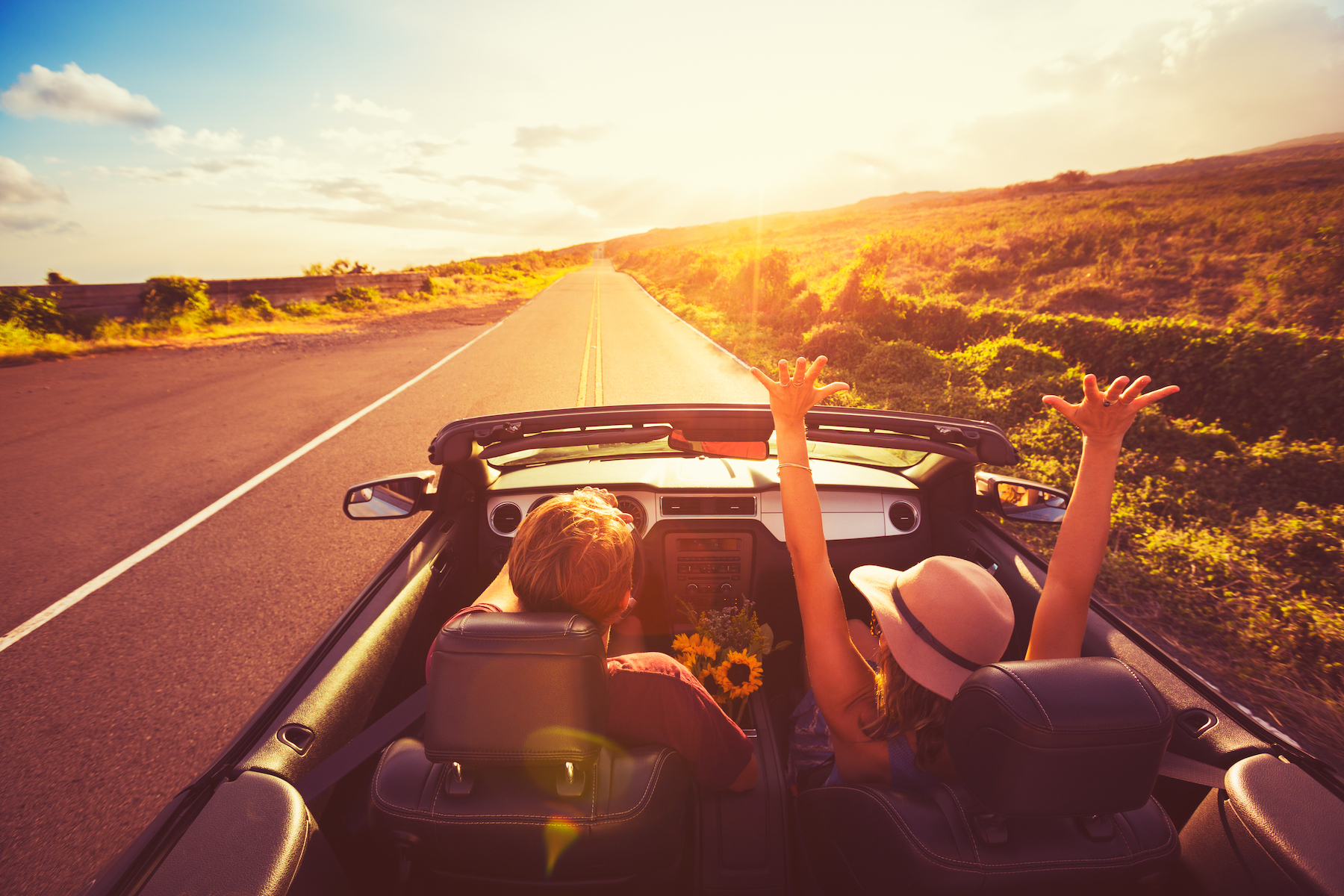 Someone decided to commemorate our national love affair with road trips. Pilot Flying J, the largest operator of travel centers in North America, has named the Friday of Memorial Day weekend National Road Trip Day. The company also has the numbers to prove why we need National Road Trip Day.
With the start of summer vacation season only a few weeks away, maybe it's helpful to remember why Americans take road trips — and to reflect on how popular this American vacation has become.
So WHAT can you do today, exactly?
Decor & Food
Use simple decorations of a large road map, toy cars, or globes. 
For food, of course, it must be snacks!  Fruit cups, carrot sticks, pretzels, and anything simple will serve the purpose.
Have a survey of the best road trip snacks and serve those on carts to your residents – you can find our cart decoration signs here!
Games
Spend an afternoon playing games you would play if you were on a road trip. Play these oldies but goodies like:
I Spy
Connect the Dots
Mazes
Tic Tac Toe
And…. Maybe a few new ones like these…..
21 Questions
Guess what a person is thinking in 21 questions
The Rules:
Someone thinks of something
Then the car begins by asking questions
You can't repeat a question that has been asked
Whoever guesses it right gets to start the next round
The Singing Game
Connect song lyrics for a fun sing-along game
The Rules:
One person starts singing a song
Using a lyric from the song, the next person has to connect it with another song
It continues on until somebody messes up the lyrics or is stumped
Example:
"You're a grand old…"
"…out where the skies are so blue…"
"Well, I'm runnin' down the road tryin' to loosen my load…"
The Movie Game
Connect actors through movies they have starred in
The Rules:
The game starts with an actor/actress
The next person has to say a movie that they were in
The following person has to state another actor/actress from that movie
It continues on
If someone is incorrect, they have to sit out the next round
Example:
Clint Eastwood – Unforgiven >
Morgan Freeman – Shawshank Redemption, etc.
Fortunately Unfortunately
Making a fortunate situation out of an unfortunate situation
The Rules:
One person starts by saying "Fortunately" and mentioning something fortunate
The next person has to follow by saying something unfortunate about the previous situation
Move clockwise around the car switching between fortunate and unfortunate situations
If somebody stumbles, they get a strike. Three strikes and you're out.
Last man standing wins.
Example:
Fortunately, this will be my first time seeing the Grand Canyon
Unfortunately, it was invaded by Martians just last week
Fortunately, I just finished my course in extraterrestrial communications, etc.
The Alphabet Categories
The Rules:
• You start with a category like food, bands, cars, etc.
• You start with A and travel down the alphabet
• You can get as specific with your categories as you want
The Name Game
Connect first and last names of famous people
The rules:
Start with the name of anyone famous (besides yourself, duh…)
The next person has to say a person whose first name starts with the letter of the previous last name
If somebody mentions a person where both the first and last name start with the same letter, the game reverses in order (e.g., Bob Barker, Lindsay Lohan, Mandy Moore, etc.)
Examples:
Tom Brady
Billy Joel
Janet Jackson (reverse!)
John Oliver, etc.
---
Conversation Starters for your 1-on-1s
Ask questions as if you were stuck in a car for hours! These are great for conversations, or writing prompts! (You can even send written answers into the Resident Tales and have your residents see their writing in print!)
If you could be the leading expert in something, what would it be?
Who are the top 3 people who have influenced your life?
What's a guilty pleasure of yours?
What is one talent or skill that you wish you had?
What's your funniest drunk memory?
Who's the most famous person you've ever met?
Which instrument speaks to your soul the most?
What's your favorite place in the world?
How many bones have you broken?
What time period would you like to take a time machine to and observe for yourself?
Have you ever gone skinny dipping?
What are your three favorite movies?
Have you ever broken the law?
If you could be invisible for one day, what would you do?
What has been your favorite travel experience?
---
Famous Road Trips throughout the U.S.
https://www.roadtripusa.com/ GREAT MAP!
Ever dreamed of jumping in a Volkswagon and cruising down the Pacific coast highway and looking over the cliffs? What about driving through the winding curving highways of the Great Smokey Mountains? Well, we have put together lots of items to take your residents virtually on road trips, museums, and….
Pacific Coast Highway
Starting at the northwest tip of the United States at Washington's Olympic National Park and remaining within sight of the ocean all the way south to sunny San Diego, this 1,650-mile, mostly two-lane road trip takes in everything from temperate rainforest to near-desert.
California Coast – via Pacific Coast Hwy. & 101
Historic Route 66
The romance of traveling from Chicago to Los Angeles along historic Route 66 continues to captivate people around the world. If you're looking for great displays of neon signs, rusty middle-of-nowhere truck stops, or kitschy Americana, do as the song says and "get your kicks on Route 66."
Route 66 Road Trip: 14 Days Driving the Main Street of America
ROUTE 66 ROAD TRIP (driving 2,500 miles across America)
The Loneliest Road
Running coast-to-coast from San Francisco to Ocean City, Maryland, "The Loneliest Road in America" is a 3,200-mile odyssey from sea to shining sea. US-50 passes through a dozen different states, four state capitals, and the nation's capital, Washington, D.C
Loneliest Road in America Road Trip: 3 Days Driving Highway 50 Through Nevada
The Loneliest Road in America: U.S. Route 50 in Nevada
The Oregon Trail
Following in the footsteps of pilgrims and pioneers, US‑20 takes in a little of everything during its two-lane trek from Oregon's rugged coast to the glorious sea and sand of Cape Cod.
Driving The Historic Oregon Trail Part 1
The Great Northern
Dubbed the Great Northern in memory of the pioneer railroad that parallels the western half of the route, US‑2 is truly the most stunning and unforgettable, not to mention longest, of all the great transcontinental road trips.
The Blue Ridge Parkway
No Destination / Driving The Entire Blue Ridge Parkway
Skyline Drive & the Blue Ridge Parkway
The Great River Road
Mississippi Great River Road trip
Atlantic Coast Highway
Driving down the Atlantic Road in 4K! (World's most beautiful road?)
USA East Coast Road Trip – Maine to the Florida Keys & Key West – 4,700 Miles of US1
Movies & TV Shows to Watch
Easy Rider (1969) R, Adventure, Drama
Almost Famous (2000) R, Adventure, Comedy, Drama
The Blues Brothers (1980) R, Action, Adventure, Comedy
Into the Wild (2007) R, Adventure, Biography, Drama
It Happened One Night (1934) Comedy, Romance
Little Miss Sunshine (2006) R, Comedy, Drama
National Lampoon's Vacation (1983) R, Adventure, Comedy
Over the Top (1987) PG Action, Drama, Sport
Smokey and the Bandit (1977) PG, Action, Adventure, Comedy
The Straight Story (1999) G Biography, Drama
Tommy Boy (1995) PG-13 Adventure, Comedy
Top Songs for Your Playlist
On The Road Again, Willie Nelson
Little Red Corvette, Prince
Fast Car, Tracy Chapman
Born to be Wild, Steppenwolf
I've Been Everywhere, Johnny Cash
Life is a Highway, Tom Cochrane
Roadtrip, Dream
Send Me On My Way, Rusted Root
Ramblin' Man, The Allman Brothers Band
Road to Nowhere, Talking Heads
Everyday Is a Winding Road, Sheryl Crow
Route 66, Chuck Berry
Day Tripper, The Beatles
I Drove All Night, Cyndi Lauper
King of the Road, Roger Miller
Hit the Road Jack, Ray Charles
Born to Run, Bruce Springsteen
I Love a Rainy Night, Eddie Rabbitt
Truckin', The Grateful Dead
"Graceland", Paul Simon
"Take It Easy" , the Eagles
---
Our Printable Activities for National Road Trip Day