Keep scrolling to the bottom of the page for all of our Hanukkah Printables!
We have curated some awesome additions for your Hanukkah fun!
Games & Activities that need little to nothing!
---
Entertaining Snack Ideas
What would Hanukkah be without a dreidel?  Try these Marshmallow Dreidels!
All it takes is some white frosting to use as glue, blue sprinkles, a pretzel stick, and Hershey kisses.
PLAYING WITH YOUR FOOD!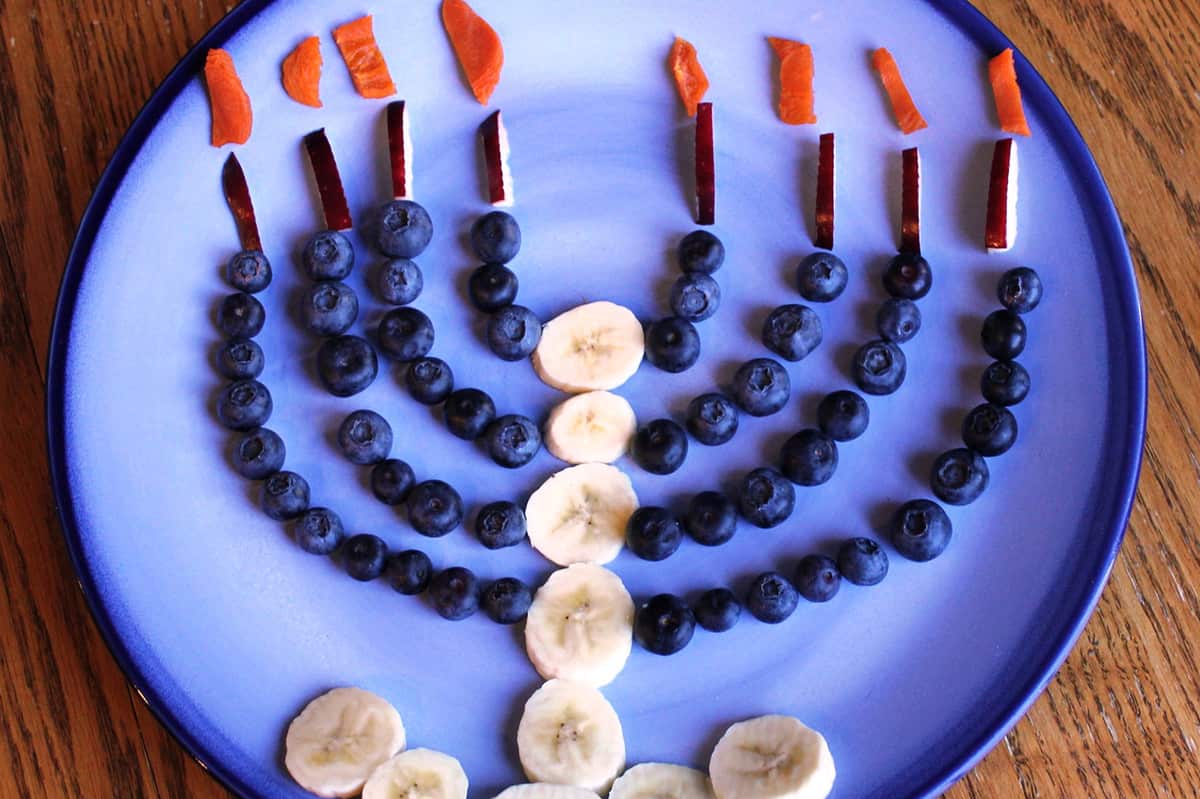 Nothing excites me as much as food does, and when you add that it makes a picture, well…. Bonus! Let your residents try this. It's banana slices, blueberries, apple slices, and carrots. Tip, make it "stick" to the plate with some yogurt as glue.
---
And how good and easy would these Hanukkah chocolate covered pretzels be for your residents to make! Yum!
---
Extra Fun We Have Found
Crafts
Construct your own Paper Dreidel with these easy cut-outs. We also have our own version that is colorful! Get it here!
---
We love these precious Hanukkah Greeting cards.  So simple to make.  Just cut 9 strips of different materials (or use magazine pictures)  and 4 of matching material and use felt for the candles.  Glue them on card stock and you immediately have a lovely greeting card.
---
Don't throw away toilet paper tubes! We will always have uses for them. This month it's those small Hanukkah gifts. So easy to put chapstick or nail polish in. They can also be used as party poppers. Stuff them with gold chocolate coins, mini dreidels, tootsie rolls, and kisses.
---
Hanukkah Movies to Watch:
An American Tail | 1986 | G | Animated, Adventure, Comedy
Eight Crazy Nights | 2002 | PG-13 | Animated, Comedy, Musical
Full-Court Miracle | 2003 | TV-G | Drama, Family, Sport
The Hebrew Hammer | 2003 | R | Comedy
Little Fockers | 2010 | PG-13 | Comedy, Romance
Hitched for the Holidays | 2012 | TV-PG | Drama, Romance
The Holiday | 2006 | PG-13 | Comedy, Romance
Mistletoe & Menorahs | 2019 | TV-PG | Drama, Romance
The Night Before Christmas | 2015 | PG-13 | Comedy
Double Holiday | 2019 | TV-PG | Drama, Romance
Fiddler on the Roof | 1971 | G | Drama, Family, Musical
Crossing Delancey | 1988 | PG | Comedy, Romance
---
YouTube Videos: