Looking for our printable products for Halloween? Scroll down to the bottom of the page!
Welcome to our Halloween Spooktacular!
No matter our age, we all love the thrill that Halloween brings! Get your residents into the Halloween spirit this year with our favorite desserts, crafts, pumpkin decorations, movies and music ideas. All for the ultimate Halloween Spooktacular experience!
---
Conversation Starters for your 1-on-1s
These are great for conversations, or writing prompts! (You can even send written answers into the Resident Tales and have your residents see their writing in print!)
What is your favorite Halloween candy?
Did you ever steal any of your kids candy?
Have you ever been on a ghost tour or visited an old cemetery?
Did you carve your own pumpkin every year?
Did you ever make your kid's (or your own) Halloween costume?
Who gave out the trick or treat candy at your house?
Do you like scary movies? Which one is your favorite?
What was your most creative costume?
---
Print out our Halloween Activity Booklet here.
We have a Guess the Treat Page that will bring back some fun memories, a Jeopardy game, a poem coloring page, and a Guess Who Sang the Halloween Classic. Your residents can do them all on their own!
---
Simple Snack ideas
---
Halloween stress balls – When the trickeries of the night get too intense, you and your residents will both appreciate these jack-o'-lantern calm down balls on hand. Check out Little Bins for Little Hands for full instructions.
This $5 Twig Wreath is spooky, yet grown-up.
Try this fun mummy craft!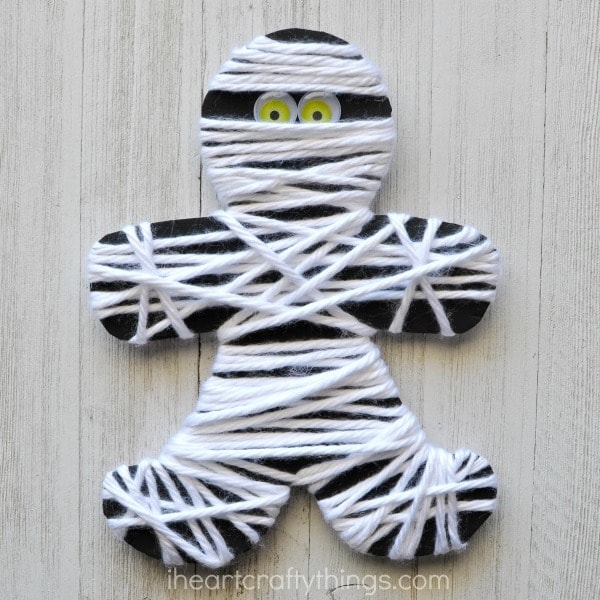 ---
We have found soooo many great Halloween Movies!
Comedy
Ghostbusters (1984) PG
Clue (1985) PG
The Addams Family (1991) PG-13
Family
E.T. The Extra Terrestrial (1982) PG
Matilda (1996) PG
The Haunted Mansion (2003) PG
The Witches (1990) PG
Halloweentown (1998) TV-G
Hocus Pocus (1993) PG
Goosebumps (2015)
Gremlins (1984) PG
Animation, Family
Nightmare Before Christmas (1993) PG
Scooby-Doo (2002) PG
Casper (1995) PG
Horror, Mystery
Sleepy Hollow (1999) R
The Amityville Horror (1979) R
Pet Sematary (1989) R
House on Haunted Hill (1958) NR
---
And some great Halloween Music just for that one day of the year!
Songs from the 60s/70s
Strange Brew, Cream
Spooky, Andy Williams
I Put a Spell on You, Creedence Clearwater Revival
Monster Mash, Bobby "Boris" Pickett
Boris The Spider, The Who
The Twilight Zone, The Ventures
The Lurch, Ted Cassidy
Black Magic Woman, Fleetwood Mac
Witchy Woman, The Hollies
Werewolves of London, Warren Zevon
(Don't Fear) The Reaper, Blue Oyster Cult
(Ghost) Riders in the Sky, Johnny Cash
The Devil Went Down to Georgia, The Charlie Daniels Band
Devil Woman, Cliff Richard
People are Strange, The Doors
Bad Moon Rising, Creedence Clearwater Revival
Songs from the 80s
I Put a Spell on You, Annie Lennox (so many versions of this, but this one is our favorite)
Hungry Like the Wolf, Duran Duran (1982)
Thriller, Michael Jackson (1982)
Psycho Killer, The Talking Heads (1980)
Ghost Town, The Specials (1981)
Twilight Zone, Golden Earrings (1982)
Sweet Dreams, Eurythmics (1983)
Ghostubsters Theme Song
---
YouTube for full playlist listening pleasures!
Here are our printable activities and community signs for an even livlier Halloween season!