Let's fly away on Paper Airplane Day!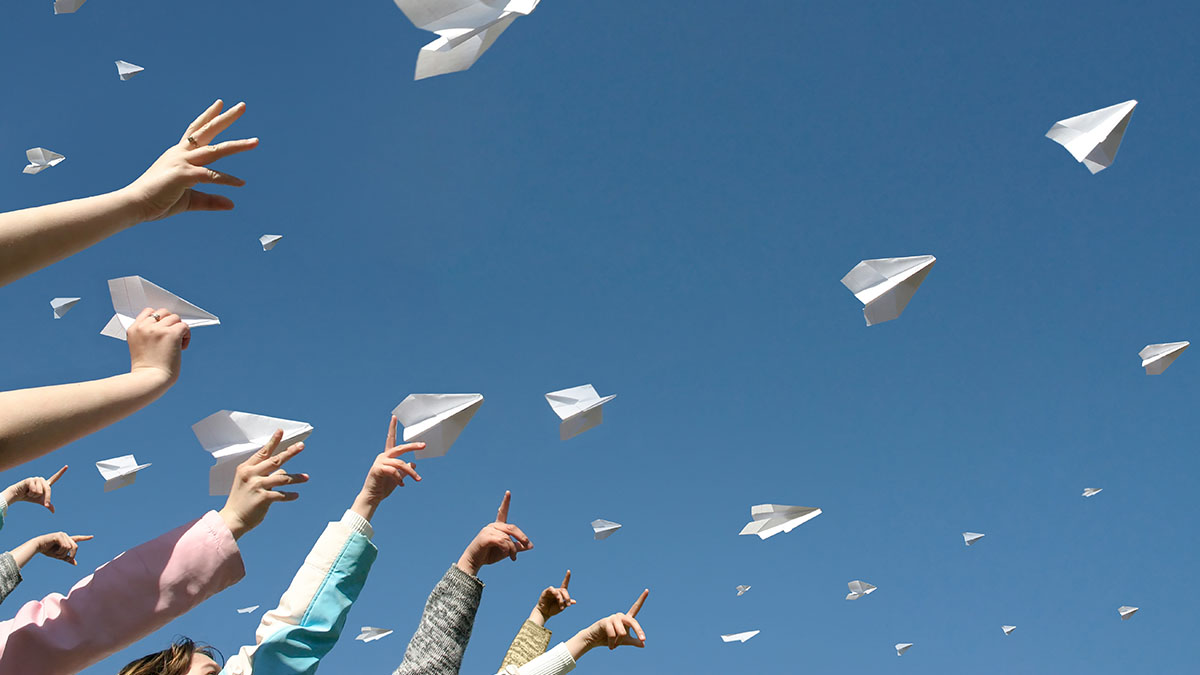 National Paper Airplane Day is celebrated every year on May 26 to commemorate the fanciful aeronautical toy. Paper airplanes have fascinated children and adults alike around the globe for generations. The day is usually celebrated with contests in two basic flight categories: distance and time in air. The practice of constructing paper planes is sometimes referred to as aerogami, after origami, the Japanese art of paper folding. Crafting paper planes is said to have originated out of ancient China, but the art is said to have been perfected out of Japan.
Looking for fun things to do on this day?
Having your residents design their own paper airplane – this is the easiest and most fun way to participate in National Paper Airplane Day. Have them channel their inner child and get crafty! You can use watercolors, markers, or crayons to achieve the most colorful in-flight experience. Let them really express themselves and show who they are!
Organize a paper airplane flying contest! Grab some residents and staff and head outside into the fresh air! Most contests offer two basic flight categories: distance and time in the air, but you can add more categories to your contest like best design, most intricate, and more. Don't forget the prizes!
Organize with a school to teach a kid to make a paper airplane. You may not believe it, but with tablets, video games, and cell phones, paper airplanes are truly becoming a lost pastime (yes, we know you actually believe it). Celebrate paper airplanes and National Paper Airplane Day by teaching local youth the art and joy of making and flying a paper airplane. You'll all have a blast making planes together and flying them in the sunshine.
---
Songs for Your High-Flying Playlist
Come Fly With Me – Frank Sinatra
Fly Away – Lenny Kravitz
Leaving On a Jet Plane – John Denver
Jet Airliner – Steve Miller Band
Fly Like an Eagle – Steve Miller Band
Eight Miles High – The Byrds
Plane – Jason Mraz
Learning to Fly – Tom Petty & the Heartbreakers
Take Me to the Pilot – Elton John
Learn to Fly – Foo FIghters
Freebird – Lynyrd Skynyrd
Blackbird – The Beatles
Jet – Paul McCartney & Wings
Flying – The Beatles
Danger Zone – Kenny Loggins
Aeroplane – Red Hot Chili Peppers
To Live Is to Fly – Townes Van Zandt
Still I Fly – Spencer Lee from the Disney movie Planes: Fire and Rescue
Beautiful Day – U2
Against the Wind – Bob Seger and the Silver Bullet Band
Floating – the Moody Blues
We Remember, a salute to aviators by Dwayne O'Brien of Little Texas
Airplane – Indigo Girls
High Enough – Damn Yankees
---
Here are our National Paper Airplane Day Printable Activities & Decorations